Dawn Dietrich and the Power of Introspection
"I would not have you descend into your own dream. I would have you be a conscious citizen of this terrible and beautiful world."
― Ta-Nehisi Coates, Between the World and Me
The "terrible and beautiful world" vividly illustrated in Ta-Nehisi Coates' "Between the World and Me," this year's Western Reads book selection, was never more on display for Western Reads Director and Associate Professor of English Dawn Dietrich than last year, when a series of events sparked by social media played out on Western's campus that caused her to take a long, hard look at who she was, how she felt about race and social inequity, and to try analyze how she might work with others to address these issues on campus.
Dietrich said that she knew then that in her role as director of Western Reads that the upcoming year's book choice would be an important one; but before she could think more widely about the book selection process, she had to address her own issues of white privilege and look deeply into how her own worldview was shaped and formed.
"When the racial incident happened, it quickly became clear that there was a pattern of racial insensitivity on campus. This wasn't a singular event or an anomaly. People came forward with their stories, and I was left wondering how the enormous difficulties faced by faculty, staff, and students of color had been largely invisible to me," she said. "I had always prided myself on being sensitive to racial injustice and oppression in many forms, especially as a professor of literature and film. But where had I been that I hadn't seen the level of pain and discomfort experienced by others on campus? I needed to really examine that in myself before I could do anything else."
"The pursuit of knowing was freedom to me, the right to declare your own curiosities and follow them through all manner of books … slowly, I was discovering myself."
― Ta-Nehisi Coates
Dietrich grew up in a small rural community in southern Michigan outside Detroit, where her family runs Green Valley Farms, a sod farm and grower of potatoes, tomatoes, pumpkins and produce of all kinds for sale in local farmers' markets.
"I was outside, all the time, morning to night," she said. "If I wasn't helping my parents with the farm, I was running around in the wilderness with my sister or my dog. We didn't have large amounts of screen time then; our canvas was the outdoors," she said. "About the only thing I liked as much as being outside was reading."
A voracious reader from an early age, Dietrich entered a Young Authors contest in 5th grade that won her a trip to a university and a prize that she keeps on her desk to this day: a Webster's Dictionary given to her by the Detroit Free Press with her name embossed in gold leaf on the cover.
More importantly, as she wrote and read and grew, she was developing a young professional identity as a writer and a reader that she would never discard.
Even though she is a first-generation college student, Dietrich said she was always encouraged and pushed to continue her education after high school by her teachers and her Mom, and she remained focused on her love of words as a possible avocation.
"I came from a very hard-working, middle-class background, and while my family wasn't formally educated, they were, nonetheless, incredible storytellers," she said. "We didn't have a lot of money but we felt very loved and cared for with words."
After finishing her bachelor's degree at Eastern Michigan University (at the same time and in the same program as fellow Equity and Inclusion Forum facilitator Maria McLeod), Dietrich taught high school for three years, a process which she said fueled her desire to delve even deeper into literature and teaching at the university level. She pursued her doctorate at the University of Michigan and, after finishing, took her first faculty job, at Western, 24 years ago – where she has remained ever since.
Four years ago, Dietrich applied for the open position of the director of Western Reads because she said she saw an opportunity to work with new people both on and off campus and see how literature impacted others in a different environment from the classroom.
"I leapt at the chance because I knew it would give me the ability to learn a whole new range of skills," she said. "It would also allow me to see what was happening outside of my department and to build relationships across campus."
"You have every right to be you. And no one should deter you from being you. You have to be you. And you can never be afraid to be you."
― Ta-Nehisi Coates, Between the World and Me
Towards the end of last school year, as she began to re-form what Dietrich calls the "Committee of the Willing" – a group of faculty staff, and students who review potential choices for the upcoming year's new Western Reads selection – she knew that the ongoing campus dialog on issues of race, equity and privilege would play a major role in the book's selection.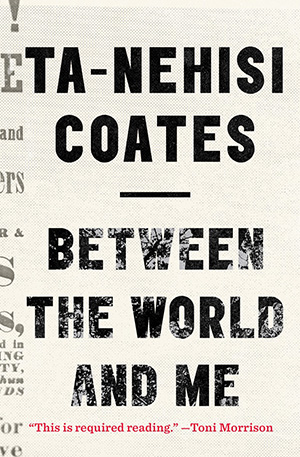 "We knew, absolutely, that we had to pick a book that would make each of us – and each of the readers – examine their own views around systemic racism," she said. "There were so many great potential selections, but in the end we felt the book that would spark the most informed discussion of race was 'Between the World and Me,' and the feedback and resulting conversations have just been incredible so far."
It wasn't long after reading the book herself, and looking at it through the lens of the ongoing campus discussions, that Dietrich realized that before she talked to anyone about their experiences with micro-aggressions or racism, she needed to examine, with gloves off, her own cultural assumptions and privilege.
"Though Coates' experiences will not come as news to people of color, white people are asked to identify with the day-in, day-out effects of racism and the anger and trauma around Coates not feeling that he can protect his son. I wasn't ready for how deeply the book would impact me," Dietrich said. "The realization of how subtle but powerful white privilege truly is, and how it comes at a cost to people of color, was sobering."
When she was asked to be a facilitator in this year's series of Campus Equity and Inclusion Forums, using the book as a way of leading her group through a difficult discussion, Dietrich said she was initially a bit reluctant.
"I didn't feel like an expert whatsoever – I looked at the stories of some of the people who led last year's forums and I could understand why they felt they could sit and discuss these issues from a place of personal perspective," she said. "I am a literature and film professor, well accustomed to leading discussions; but not with faculty, staff, and students around race and white privilege. Then I realized that was the point – that helping to move along a vital conversation among my peers didn't mean I was the expert, it just meant I was vulnerable in the same way they were and that we were on the same journey.
"We were in it together."
She facilitated her first discussion on the book with faculty, staff, and students last week, and called the experience incredible, mostly for the willingness people had to share their experience of the book as well as the experience of their lives.
"The book is just what we'd hoped it would be – a springboard for a campus discussion on race that needed to happen, and will need to keep happening," she said.
Dietrich says she will keep working to start conversations using the book and the Campus Equity and Inclusion Forums to ask the participants to truly "lean into discomfort" and discover more about their own perceptions of what Coates calls this "terrible and beautiful world."
"The dialogues have started … but we still have so much work to do," she said.
Note: This is the third of four articles in Western Today about the upcoming Campus Equity & Inclusion Forum series; a new article will be published each week in October in support of Equity & Inclusion Month at Western. Seminars, workshops and offerings from the forum facilitators will run throughout the school year. Go to the Western Reads website to get a list of the upcoming events and programming around Between the World and Me: https://wp.wwu.edu/westernreads/.
For a full list of all 15 E&I workshop opportunities, go to https://west.wwu.edu/training/default.aspx#.
Click the heart to favorite
Wednesday, October 19, 2016 - 1:55pm